Composites Testing
R-TECH Materials offers fast, reliable and accurate composites testing services across the UK and Europe. Accredited by UKAS and Nadcap,  you can be confident choosing us as your trusted testing partner.  To find out more, contact us today.
With the rapid growth of the composites industry globally expected to reach over $100 billion by 2021, the demand for high-quality composites testing and analysis has never been greater. We understand that as the demands on you, our customer increase, your need for a fast, reliable and accurate testing service that you can rely on will grow.
We have experience in working with all types of composite materials, from fibreglass to cutting edge graphene infused carbon fibre, or even metal matrix composites and our highly trained expert staff will give you the confidence you need to trust us with your testing and R&D projects. As a business we continually strive to improve every aspect of our composites testing capabilities each and every day, to ensure that we are able to deliver the testing that you need as quickly and accurately as possible.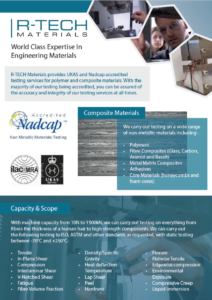 UKAS and Nadcap Accredited Composites Testing
Click to download a PDF summary of our composites testing capabilities
Download
A Global Composites Testing Partner
R-TECH Materials is an active participant within the national and international advanced composites community with active membership in ASTM D30, BSI PRI/042 standards committees and Composites UK.
Furthermore, R-TECH Materials is the laboratory partner for Lloyd's Register EMEA, providing testing services in the field of non-metallic materials and collaborating on common research themes for their global marine business.
We also work closely with Zwick Roell, Germany to provide composite testing training to the industry in the UK.
Accredited Testing
Our composites laboratories provide facilities for detailing the chemical, thermal and mechanical properties of composite materials, components and products. We can conduct testing to national, ISO and ASTM standards, or to your own test specifications. With most of our tests accredited by UKAS and Nadcap, you can be assured of the accuracy and quality of the testing being completed.
R&D
From developing safety systems for hydrogen fuel cell tanks, to cutting edge thin ply carbon fibre, we have been involved in a number of ground breaking R&D activities with a number of different companies.
Single Fibre Testing
In developing your materials, single fibre testing is sometime a necessity. Our loading arrangement is flexible, allowing for testing of both fibre and coupons on the same rig, with a high level of alignment at loads of up to 10kN.
Coupon Testing
With capacity up to 250kN for machines with alignment calibrated to ASTM E1012, you can guarantee quality, repeatable results when using us as your testing partner. With capacity up to 250kN for machines with alignment calibrated to ASTM E1012, you can guarantee quality, repeatable results when using us as your testing partner.
Fatigue Testing
We have the capability of fatigue testing coupons or components up to 100kN load in tension, compression and flexure.
Award Winning Testing
R-TECH Materials testing has been recognised by JEC, who awarded them a JEC Asia innovation award for their testing work as part of a collaborative R&D project.
Why aren't composite tensile specimens dog bones?
The tensile strength and modulus of materials are crucial characteristics that engineers use for component design. This information is determined by means of a simple tensile test. For most materials, a dog bone shape is used in order to promote a failure within the gauge length of the extensometer and prevent grip end failures, but not for composites. Why?
Download
Strain gauging – Dark art or simple science?
The relationship between stress and strain is the most fundamental aspect of mechanical testing. One of the primary means of measuring the strain is through the use of bonded strain gauges. Strain gauging is an ability that every test engineer should have in their toolbox and in theory, it should be a relatively easy tool to use. Simply stick the gauge to the specimen, solder on some lead wires and away you go. In reality, however, life is never that easy! Without knowing a few simple techniques, a world of heartache caused by detached gauges and broken terminals, stripped from the gauge by the lead wires, will quickly follow.
Download
Silent Witness of the Composites Industry - Composites in Manufacturing
Characterising and investigating composite material properties relies on modern equipment and the expertise of skilled materials scientists. But what types of testing do laboratories conduct and why is it so important? Composites in Manufacturing reports. Click here to read more...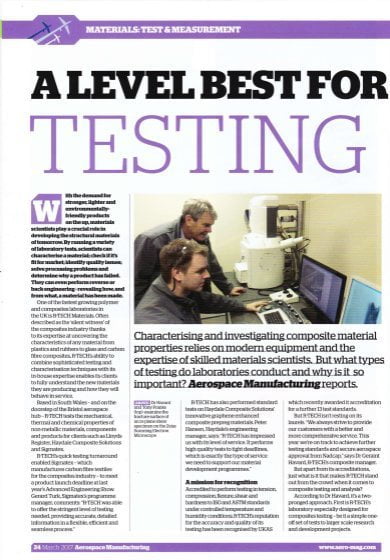 A Level Best for Testing - Aerospace Manufacturing
With demand for stronger, lighter and environmentally friendly products on the up, materials scientists play a crucial role in developing the structural materials of tomorrow. Click here to read more….