Characterisation & Microscopy
R-TECH Materials has a range of techniques available for the characterisation of both the macrostructure and microstructure of materials. Materials characterisation covers a range of diverse techniques, but the main techniques involve imaging by means of optical or electron microscopy.
Other characterisation techniques include thermal analysis, surface texture, dimensional measurement, particle size distribution, thermal conductivity, fibre content, water absorption, coating thickness, and many others.
Microscopy
Our microscopy suite, including a HIROX digital microscope can be utilised for a wide range of materials to characterise properties such as:
Phase
Void content
Grain structure
Particle size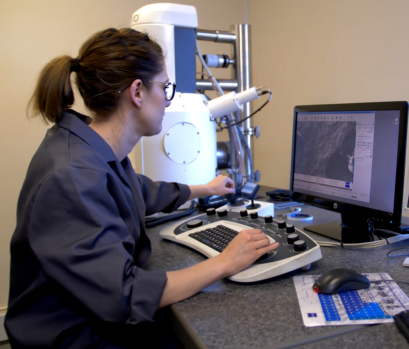 SEM
The in-house Zeiss EVO 60 scanning electron microscope with Oxford INCA EDX microanalysis system  enables magnification up to X50,000. This powerful imaging technique used for metallic and non-metallic materials is widely used for the examination of fracture surfaces, corrosion products, material defects etc.
The Oxford INCA microanalysis system can also be used to identify the elemental composition of local areas on the specimen surface. This is an invaluable tool for the identification of corrosion products, contamination, identification of defect sources etc.
Physical Properties
Specific Gravity / Density
Absorption of liquids (oils, water, acids)
Non-volatile content
Shrinkage Measurement
Viscosity
Gel time
Dimensional tolerance measurement
pH
Particle Size
Void content
Thermal Properties
Differential Scanning Calorimetry – DSC
Dynamic Mechanical Analysis –  DMA
Thermogravimetric Analysis – TGA
Thermal Mechanical Analysis – TMA
Temperature Deflection Under Load – TDUL
Thermogravimetric Analysis
Loss of water
Loss of solvent
Decarboxylation
Oxidation
Decomposition
Filler Content
Non-Volatile Content
Vapourization
Sublimation