Engineering plant can be subject to incredibly harsh operating conditions. With that in mind, plant design and materials selection philosophies are refined based upon ideal operating conditions and a pre-defined design life. Deviation from the specified design parameters can expose components to accelerated materials degradation mechanisms. Such encounters can impact upon the integrity of plant itself.
R-TECH Materials have extensive knowledge of materials degradation induced by high temperature, cyclical operation and a variety of corrosion mechanisms. This knowledge, coupled with an understanding of the plant itself, is essential when defining an effective inspection regime. This data can then be utilised to undertake a detailed integrity assessment of the affected plant, helping to determine the fitness for service, the remaining plant life and possible opportunities for life extension.
Carburisation study on Platformer heater tubes in an oil refinery.

Sigma phase assessment on a pressure vessel in the nuclear industry.

Failure investigation of a gasifier secondary airline.

Integrity assessment of the steam drum on the incineration and heat recovery plant at a sewage works.

Metallurgical assesment of the outlet headers on two steam‐methane reformers.
Plant Integrity Summary
Click here for a PDF simple summary of our plant integrity services.
Download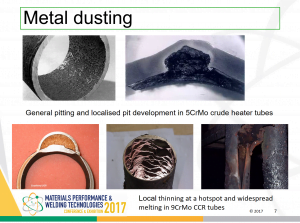 Paper: Carburization and Metal Dusting in Fired Heaters and Steam Methane Reformers: Plant Integrity Issues
The following paper was delivered at the Materials Performance and Welding Technologies Conference in Saudi Arabia in September 2017.
Download