Downloads
Please see below our list of eBook's and other resources.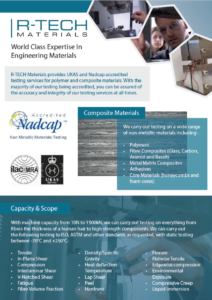 R-TECH Materials provides UKAS and Nadcap accredited testing services for polymer and composite materials. With the majority of our testing being accredited, you can be assured of the accuracy and integrity of our testing services at all times.
Composites Testing Flyer
Download
R-TECH Materials have extensive knowledge of materials degradation induced by high temperature, cyclical operation and a variety of corrosion mechanisms. this knowledge, coupled with an understanding of the plant itself, is essential when defending an effective inspection regime.
Plant Integrity Flyer
Download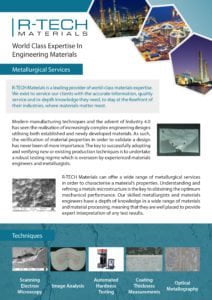 R-TECH Materials can offer a wide range of metallurgical services in order to characterise a materiel's properties. Understanding and refining a metals micro-structure is the  key to obtaining the optimum mechanical performance.
Metallurgical Services Flyer
Download
R-TECH Materials have undertaken in excess of a thousand failure investigations across a wide range of industries including upstream oil & gas, downstream oil & gas, power, energy from waste, rail, transport, aerospace amongst a range of others.
Failure Analysis Flyer
Download
R-TECH Materials are an industry expert in the testing of reinforcing steels and the associated products.
Reinforcing Steel Flyer
Download
R-TECH Materials are experts in the welding & brazing of a variety
of materials. Our expert Metallurgists and Welding Specialists hold
expertise in the requirements of a number of international standards.
Weld Testing & Consultancy
Download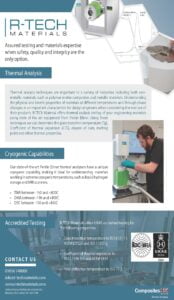 Thermal analysis techniques are important to a variety of industries including both nonmetallic
materials, such as polymer matrix composites and metallic materials. R-TECH Materials offers thermal analysis testing of your engineering materials using state of the art equipment from Perkin Elmer.
Thermal Analysis
Download
Composites are complex materials with unique mechanical properties, requiring skill and expertise to produce accurate and reliable test results. At R-Tech Materials, we have been developing our laboratories for testing composites for a number of years and have gained a wealth of knowledge and experience in the finer details of composites testing.
Essential Guide to Composites Testing
Download